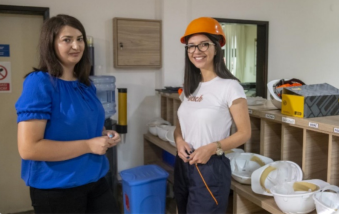 We are happy to share with you another beautiful story that UNICEF shared with us!
We would like to take this opportunity to inform you that thanks to the Program "Improving the employability of young people through work practices" implemented by UNICEF Serbia with partners, Kristina Stojanović (25) from Požega gained her first work experience and a paid internship. Kristina recently proudly received a diploma in engineering technology and biotechnology, and according to the experience of her older colleagues, she expected that she too would experience the same vicious circle when the search for a job starts – employers are looking for work experience even for their first job, without giving young people the opportunity to acquire it.

"The problem is that most employers expect us to have work experience, and if they don't offer us to get that experience, we won't get it," says Kristina. The Program "Improving the employability of young people through work practices" gives young people the opportunity to gain their first work experience, which they need so much when entering the labor market. A large number of young people in Serbia got that opportunity, and among them is Kristina, who is currently completing a two-month paid internship. "When I got this internship, it was the way I imagined my first job. Everyone is friendly and wants to help me. They are all aware that this is my first job after College and that I am in the process of learning, so I feel accepted. After my basic studies, I continued my master's studies, so I am both in the learning process and in practice, but for now I am successfully balancing. It suits me and I'm glad to be able to return to my home city Čačak and I think I'll stay here to work," Christina explains with great enthusiasm. For young people in Serbia between the ages of 15 and 24, the labor market is an unfavorable environment, and finding a job is one of the biggest challenges, mostly due to the lack of previous work experience.

More than a fifth of them are unemployed, in the opposite to the countries of the European Union, where about 16 percent of young people are unemployed.

That's why UNICEF, together with its partners, encourages companies to join the program, so that the young people have the opportunity to improve their economic position, and the companies themselves implement socially responsible business.
ICEPS remains side by side with UNICEF and continues to support the work of this organization in Serbia, participating in various activities for the wel-being of children and youth!